Anyone who has ever trekked to Everest Base Camp knows how arduous the trek is. Not only are you climbing from an altitude of 2,860 metres to 5,364 metres, you have to cover a distance of 103 kilometres to trek to Everest Base Camp and back.
Not only did I do it myself, my 5-year old son, Gabriel walked the entire way and back unassisted. So, how did we do it?
Read on to find our tips and advice on how to successfully and effortlessly trek the entire distance to Everest Base Camp.
"THERE ARE MANY CHALLENGES TO AN EVEREST BASE CAMP TREK."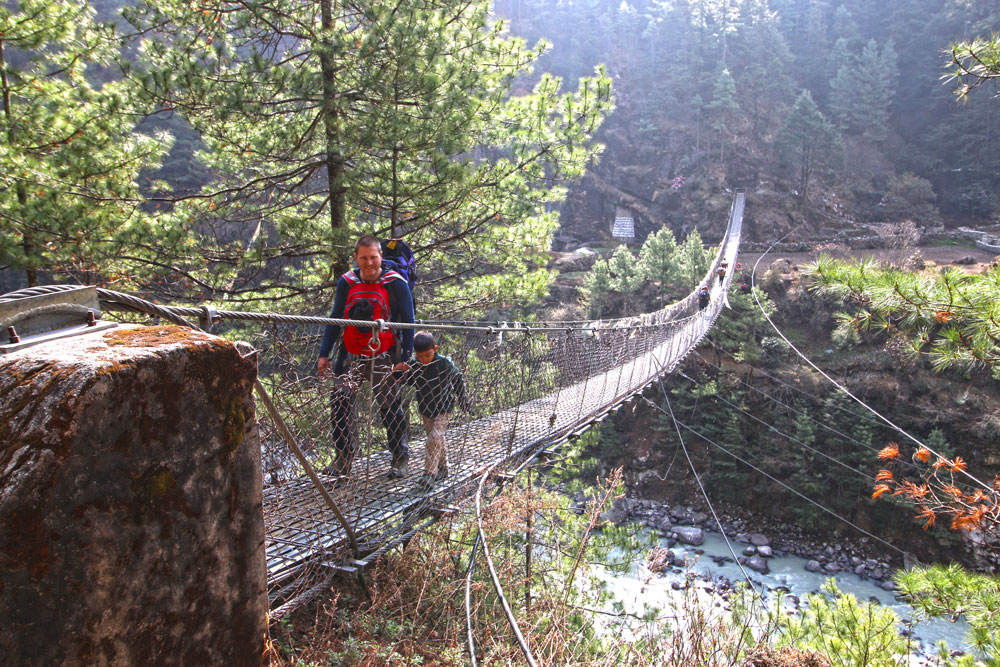 What Challenges You Need to Overcome along the Way to Everest Base Camp
Altitude
Altitude is the biggest killer for most people, including myself. This is one area which is very hard to train unless you live in the mountains. The last couple days of trekking to Everest Base Camp is hard because you're breathing in air that has less oxygen than you're normally used to.
The low oxygen levels have several effects on your body. Not only does it make you very tired and lethargic, you can also suffer from altitude sickness if you're not careful.
Read our tips below on how to cope with trekking at high altitude.
Weather
There are two distinct weather systems along the Everest Base Camp trekking route. From Lukla to Namche Bazaar, the weather is usually warm and you're protected from the wind by the trees.
However, from Namche Bazaar onwards, the weather changes. The temperature drops and the wind picks up as you're now trekking above the treeline. Clouds move in around early afternoon making the weather unpredictable. Occasionally, you can expect snow to fall by late afternoon.
Read our tips below on how to avoid trekking when the weather deteriorates.
Distance
Trekking 103 kilometres for several days at a stretch is no easy feat. However, this is one area that you can prepare for the best.
While it's extremely difficult to prepare for trekking at high altitude or adverse weather conditions, there are several things you can do to ensure you are in the best possible position to successfully trek the distance to Everest Base Camp.
Read our advice below to find out how to successfully and effortlessly trek the entire distance to Everest Base Camp.
"THERE ARE MANY WAYS TO MAXIMISE YOUR CHANCE OF SUCCESS ON AN EVEREST BASE CAMP TREK."
Tips on How to Successfully Trek the Distance to Everest Base Camp
Do Your Research – Before you book your Everest Base Camp trek, research everything you need to know about the trek itself. This ensures you're well aware of what you're getting into, and whether this is a challenge you're willing to take on.

Fitness and Exercise – Your fitness level is crucial to successfully and effortlessly trekking to Everest Base Camp. You can work on improving your fitness by committing a few hours every week for a minimum two months. Do this and trekking to Everest Base Camp will be an enjoyable experience.

Select the Right Itinerary – There are many itineraries for an Everest Base Camp trek. Ranging from 7 to 16 days, you can choose an itinerary that suits your fitness level. You can also alter an itinerary to suit your needs as we did by incorporating a couple of extra days into your trek.
Trekking Boots – These are the single most important gear that you will need on your Everest Base Camp trek. So, it's important that you invest in a good pair of trekking boots well before your trip. Make sure they are comfortable for the long days of trekking, sturdy for the rocky terrain, and waterproof to avoid getting wet feet.

Trekking Poles – Most people use trekking poles for their Everest Base Camp trek as did I. They make it easier to walk, both for the uphill trek as well as downhill. They take the pressure off the knees when going downhill, as well as making it easier to climb steep terrain.

Cut Your Journey in Half – This can be an expensive option, but you can opt to take a helicopter from Everest Base Camp back to Lukla instead of trekking all the way down. There are many benefits to this, including not having to retrace your steps, trek downhill and it cuts your trekking distance by half.
Travel Light – This will make it a lot easier to trek the distance to Everest Base Camp. Carry a light, comfortable backpack with only the essentials you will need during the day. Pack the rest of your stuff in the duffel bag that your porter carries.

R&R – When you're not trekking, ensure you get plenty of rest and recovery. Have a lie down for an hour or so when you get to the tea house. This will ensure you are well rested for the next day of trekking.

Eat Simple and Healthy – What you put into your body is what you get out of your body. If you want your body to work at its best, you have to make sure you're eating healthy and nutritious meals during your trek. Plenty of carbohydrates and vegetables will ensure your body has all the fuel it needs to comfortably trek the distance to Everest Base Camp.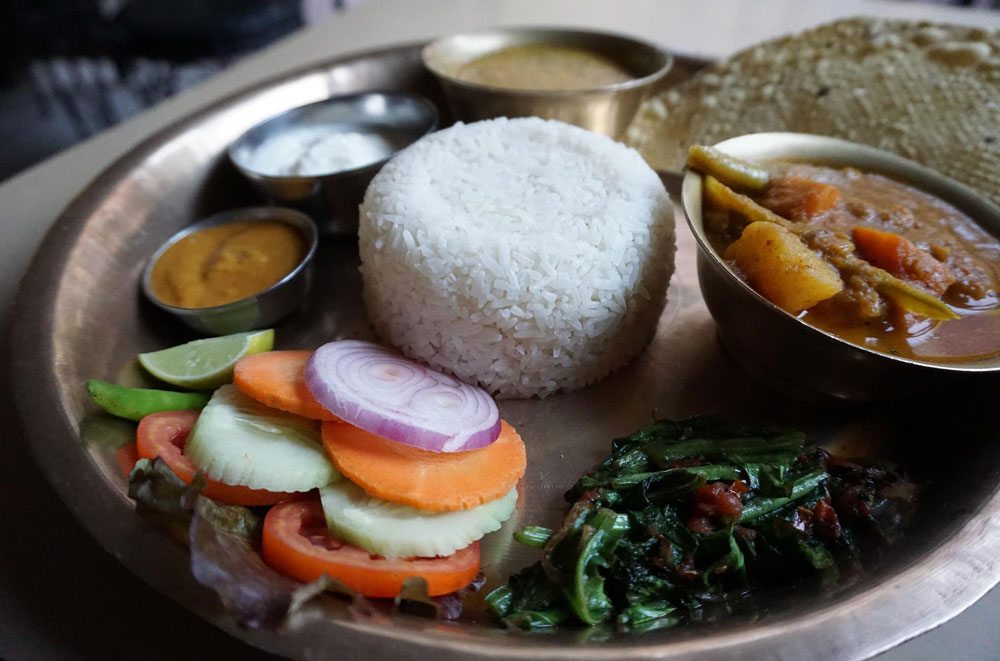 Stay Hydrated – In addition to food, your body needs plenty of water to keep up the energy it needs to trek for long hours everyday. Have lots of water before you start your trek in the morning. Teas are another good option as they are easily available at all teahouses and come in a variety of yummy flavours.

Supplements – Drinking plenty of water is a good thing, but sometimes your body needs more than that. Supplements such as electrolytes help to boost energy and replace lost salts in the body. I drink these while trekking to give me a boost.

Choose the Right Tour – It is very important that you choose the right tour operator for your Everest Base Camp trek. Someone with a good track record who has plenty of experience in the field will serve you well on the trail. You need a good team with you (guide and porters) who will support and encourage you, especially on the days when it gets challenging.
Start Early – The weather can be quite unpredictable on the mountain, especially the higher you go to Everest Base Camp. If you start your trek early in the morning, you can finish early before the weather changes (when the clouds roll in and it gets cold and windy).

Slow and Steady – Altitude sickness is all too real on an Everest Base Camp trek. To avoid this, trek slowly and take your time. Not only will you enjoy the trek, you will also avoid getting headaches, dizziness and nausea from altitude sickness.

Be Flexible – Last but not the least, be flexible with your plans. Plan and plan for your plan not to go to plan. Incorporate a day or two into your itinerary for unforeseen circumstances. They do happen.
I hope these tips are helpful in ensuring that you are in the best possible position to deal with all the challenges a trek to Everest Base Camp throws you.
Bear in mind, there might be times when things don't go according to plan, so having a flexible mindset will help you in the long run.
Follow these tips and hopefully you'll be able to successfully and effortlessly trek the entire distance to Everest Base Camp.
As always, I love to hear from my readers. Are there any other tips that might help others to have an enjoyable trip to Everest Base Camp?
Please share by leaving your comments below.