The hiking boots you choose are critical to your comfort and performance on your next Everest Base Camp trek.
These days, however, you don't have to put up with a stiff and burly pair of boots that will weigh you down. The trend is toward lighter materials that still offer decent support, and waterproof boots are the most popular by far.
I've chosen ten of the best boots suitable for an Everest Base Camp trek that perform well on rough terrain, have good ankle support, yet are fast, light and flexible.
Ten Best Boots for Everest Base Camp Trek
Best Overall Hiking Boot
1. Salomon X Ultra 4 Mid GTX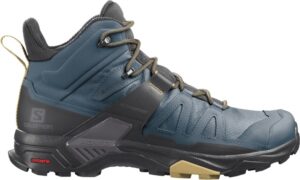 Category: Lightweight
Weight: 1 lb. 14 oz. (0.9kg)
Waterproof: Yes (Gore-Tex)
What I like: Fast, light, flexible, and reasonably priced.
What I don't: Thinner underfoot and less stable than the Salomon Quest 4 below.
Built like a trail running shoe but with added ankle support and protection, the Salomon X Ultra 4 Mid is my favorite all-around hiking boot. These boots offer an impressive combination of comfort and low weight, all while retaining solid toe protection, a stable heel chassis, and a lug sole design that grips exceptionally well. You also get Salomon's time-tested build quality, which tends to stand up to more abuse on the trail than other boots in this weight and price range. For fast-moving hikers or even those carrying lightweight backpacks, I highly recommend the Salomon X Ultra 4 Mid.
Naturally, there are a few compromises that come with the X Ultra's lightweight construction. The most significant is the lack of underfoot protection, which is thinner than the burly Salomon Quest 4 below. In addition, the X Ultra is fairly flexible and doesn't sit as high on the ankle as the Quest, so it isn't as supportive over technical terrain or when carrying a heavy pack. On the plus side, it's one of the few lightweight designs that is made in wide sizes.
Best Budget Hiking Boot
2. Merrell Moab 2 Mid GTX
Category: Light/midweight
Weight: 2 lb. 4 oz. (1.02kg)
Waterproof: Yes (Gore-Tex)
What we like: Great price, fit, and comfort.
What we don't: Not as supportive for rough trails or heavy loads.
Of all the boots suitable for an Everest Base Camp trek, my top value pick is the Merrell Moab 2. What makes this boot so popular is its lightweight and comfortable feel at such a reasonable price. What you get is good cushioning underfoot, trusty Vibram outsoles, and a Gore-Tex membrane. The Moab was updated to the "2" a few years ago, but they didn't fuss much with the proven design. Notable changes included a new insole with a higher arch, improved cushioning under the heel, and a more waterproof and durable suede upper.
What are the downsides of the Moab 2 Mid GTX? The boot is lacking in support compared to some of the pricier models on this list for carrying a heavy load or scrambling on rocky or rough trails. Second, it isn't quite as durable or long-lasting as some of the pricier models on this list. The Moab is a well-built hiking boot overall, but the lack of premium materials means that it may eventually need to be replaced a little sooner than we would prefer. But at a significant discount from other top boots on this list, the Moab offers the right mix of comfort and performance for an Everest Base Camp trek.
Note: Merrell released the updated "3" recently (featuring a bit more support underfoot, a grippier midsole, and more recycled materials), but the 2 is still widely available at the time of writing.
Best Boot for Rough Terrain
3. Salomon Quest 4 GTX
Category: Mid/heavyweight
Weight: 2 lbs. 14.2 oz. (1.31kg)
Waterproof: Yes (Gore-Tex)
What we like: Tough, protective and supportive, yet comfortable.
What we don't: Pretty heavy and overkill for most day hiking.
If you're in the market for a tough boot to take on your next Everest Base Camp trek, Salomon's Quest 4 GTX is the whole package. The fourth generation of the line features a top-notch performance fit, aggressive stance, and an amazing lacing system—the eyelets at the base of the ankle do an excellent job locking your heel in place. In addition, the latest model (released in 2021) has a modernized yet very durable upper, and the cushioning and protection underfoot is impressive on rocky trails, when hauling a heavy load, and on high-mileage days. Taken together, the Quest is a burly boot that will truly excel on the Everest Base Camp trail.
The Quest 4 is ideal for an Everest Base Camp trek which features steep climbs and descents while carrying a full pack. But the boot is a bit stiff and overkill for people that don't need the extra protection or want to move fast and light on the trail. Those folks will be better off with a lighter and nimbler boot option like Salomon's own X Ultra 3 Mid GTX above.
Best of the Rest
4. Asolo Falcon GV
Category: Light/midweight
Weight: 2 lb. 2.6 oz. (0.98kg)
Waterproof: Yes (Gore-Tex)
What we like: Well built, extremely comfortable, and tough.
What we don't: Pricey and not quite as supportive as some of the heavier boots on this list.
When I think of Asolo, the first thing that comes to mind is a classic, leather hiking boot like their TPS 520 GV Evo. The sleeker and more modern Falcon GV, however, represents where hiking footwear clearly is headed: a little less weight and support than a traditional hiking boot, but with serious technical chops. It's well built, extremely comfortable right out of the box, and can handle just about anything you can throw at it.
The biggest downside in choosing the Asolo Falcon GV is stability, which would be rated as moderate. If you're used to a high-cut boot with tons of support, the Falcon isn't it. But when laced up tight, there are few issues when hiking with a relatively heavy load over all types of terrain on the Everest Base Camp trail. For those who don't need the ultimate levels of stability and want a lightweight and comfortable do-all boot, you can't beat the Falcon.
5. Lowa Renegade GTX Mid
Category: Midweight
Weight: 2 lbs. 7 oz. (1.11kg)
Waterproof: Yes (Gore-Tex)
What we like: Light and comfortable; enough support for most backpackers.
What we don't: Not the toughest construction.
The Lowa Renegade has the look and feel of a traditional hiking boot at an impressively low weight. Unlike the more aggressive and modern Quest above, the leather Renegade offers better isolation from the ground and feels more planted and sturdy. It does give up a little of the fun factor and performance fit of the Quest, but the trade-off is worth it for those carrying a heavy pack or wanting more underfoot protection on the rocky trails leading to Everest Base Camp.
Lowa kept the weight down in part by moving some of the stabilizing duties to a very effective external polyurethane frame. This makes the Renegade perform like a true hiking boot while weighing less than 2.5 pounds. Further, its leather upper is relatively thin, which saves ounces and reduces break-in time. The sacrifice of all this lightening is a lack of long-term durability. High-mileage users have reported needing a new pair nearly every year. But they keep coming back for the comfortable feel and the right balance of weight and support. And it's easy to find a good fit as the Renegade is made in narrow, regular, and wide widths.
6. Scarpa Zodiac Plus GTX
Category: Midweight
Weight: 2 lbs. 6.4 oz. (1.09kg)
Waterproof: Yes (Gore-Tex)
What we like: Reasonably light but stiff enough for backpacking over rough terrain.
What we don't: Pricey and overkill for maintained or moderate trails.
For a trek over the harsh terrain leading to Everest Base Camp, it's hard to beat Scarpa's Zodiac Plus. This boot mixes approach shoe-like traction on rock and boulders with the toughness and stability of a lightweight mountaineering boot, which is quite a combination. The semi-stiff build, high-quality construction, and solid protection provides a lot of confidence on steep climbs and sketchy descents.
Among tough and serious hiking boots, the Zodiac Plus and Salewa MTN Trainer below are two of the best. The Zodiac is more comfortable out of the box, weighs less for the pair, and is a bit more flexible for covering ground quickly, but the MTN Trainer's stiffer build and 360-degree rubber rand offers even better protection in the alpine. Depending on your needs, both are mountain-ready waterproof designs that should get the job done.
7. Oboz Bridger Mid WP
Category: Midweight
Weight: 2 lbs. 6 oz. (1.08kg)
Waterproof: Yes (B-Dry)
What we like: Sturdy and supportive for the price; quality insole included.
What we don't: Feels a bit slow and heavy on the trail.
Oboz has a reputation for making tough, comfort-first footwear, and their over-the-ankle design is the Bridger Mid. It's nicely cushioned and protective underfoot, including TPU reinforcements and a nylon shank, but lacks the lightness and flexibility of the modern options in our list. The upside is that the boot is stable and supportive—the leather upper can withstand a lot of abuse, and the midsole reinforcements give the boot a planted feel. For an Everest Base Camp trek, the Bridger Mid Waterproof is a comfortable choice.
What's not to like with the Oboz Bridger? On the trail, the boot feels slower and heavier than competitors like the Merrell Moab 2 Mid. Further, the in-house B-Dry waterproof membrane makes the boot run warm even in moderate temperatures.
8. Danner Mountain 600 Mid WP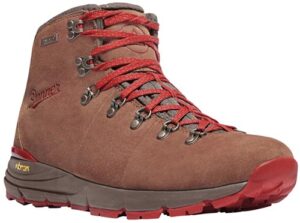 Category: Midweight
Weight: 2 lbs. 5 oz. (1.05kg)
Waterproof: Yes (Danner Dry)
What we like: Classic Danner looks in a lightweight package.
What we don't: Not as durable or long-lasting as the price would suggest.
Danner is best known for their throwback, full-leather boots, but their Mountain 600 has struck a chord with the hiking crowd. The over-the-ankle design is relatively lightweight at 2 pounds 5 ounces for the pair, surprisingly flexible underfoot, and has sharp looks with a full suede upper and quality lacing hardware. An in-house waterproof liner combined with the water-resistant suede helps keep your feet protected from rain and snow, while also providing a light boost in warmth for wearing to Everest Base Camp.
As expected considering its casual slant, the Mountain 600 is not intended for high-mileage users. The materials aren't known for holding up over the long haul, particularly if you subject them to rugged trails. Further, the boot is pretty expensive when stacked up to more capable, lighter-weight designs like the Salomon X Ultra 4 Mid above. But if you prioritize out-of-the-box comfort, styling, and everyday versatility, the Mountain 600 is worth a look.
9. Salewa MTN Trainer Mid GTX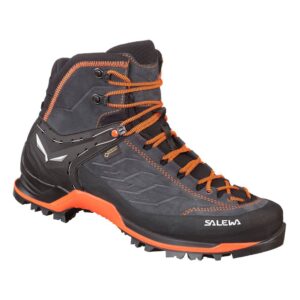 Category: Mid/heavyweight
Weight: 2 lbs. 15.2 oz. (1.34kg)
Waterproof: Yes (Gore-Tex)
What we like: Burly combination of an approach and alpine shoe.
What we don't: Not everyone will like the stiff build and runs warm.
Resembling a mix between an approach shoe and an alpine boot, the Salewa MTN Trainer Mid GTX is designed for rough trails and harsh conditions (Salewa is a mountaineering and climbing company first). The boot features a protective rand that wraps around the entire lower section of the boot for total isolation from rocks, snow, and other trail debris. A further nod to the company's climbing background is the lacing system, which extends all the way to the toes (most hiking boot laces end at the middle of the foot). This makes it easy to customize the fit, which is great for those with a wide forefoot and narrow heel or vice versa.
The MTN Trainer is most at home in rough environments, such as hikes above treeline or scrambling over rocks off trail. This makes them perfect for an outing on the Everest Base Camp trail. On a regular path the boot can feel heavy and overly stiff (this can be a benefit for those in need of strong lateral stability). It's hard to beat the Salomon Quest, and the Scarpa Zodiac gets you similar levels of toughness but with a nimbler feel. However, for all-out protection and 4-season usability, it's hard to beat these Salewas.
10. Arc'teryx Acrux TR GTX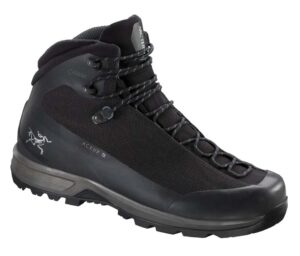 Category: Midweight
Weight: 2 lbs. 6.8 oz. (1.1kg)
Waterproof: Yes (Gore-Tex)
What I like: Tough and capable yet lightweight.
What I don't: Would prefer more cushioning.
A couple years ago, Arc'teryx released the Acrux TR GTX technical hiking boot, which took the place of the discontinued Bora in their footwear lineup. In contrast to the Bora, the Acrux follows a more traditional route. It has a standard one-piece upper, EVA midsole, and Vibram traction. But this being Arc'teryx, there are some fun surprises. In particular, I've found the SuperFabric upper material to be especially durable and tough considering its thin build. Despite weighing less than 2.5 pounds for the pair, the boot provides excellent support and protection while carrying a heavy backpack over challenging terrain to Everest Base Camp.
One disappointment with the Acrux is its general lack of cushioning. The thin upper is partly to blame, but underfoot, the stock OrthoLite insole is simply too thin and flat to be comfortable over full days of hiking. Replacing the insole is a good start (it is removable), but the cushioning is a weak point in the design. In addition, the collar dips fairly low around the back, which lets in more debris than a mid-height boot. These complaints push the Acrux down my rankings, but there's still plenty to appreciate with this burly yet light backpacking boot.
While it's hard to pick a pair of hiking boots just from reading about them online, it's always best to try them on and check the fit for yourself. Everyone's foot size and shape is different, and while some hiking boots are suitable for people with wide feet, others cater for narrow feet.
Whichever hiking boot you end up with, it's always advisable to wear them for a while before your trip to Everest Base Camp. Short hikes or a few walks about town will help break them in and save you blisters and pain on your next Everest Base Camp trek.
As always, I love to hear from you. Do you have a hiking boot that is featured on this list of best boots for an Everest Base Camp trek? Which is your favourite hiking boot and why?
Please leave your comments below.