As someone who has a very special diet, including being gluten free, I struggle eating out at restaurants due to the limitations of my diet. When we decided to go trekking to Everest Base Camp, I was worried how the Nepali food would affect my strict diet. However, I soon learned that it was possible to enjoy a gluten free diet on an Everest Base Camp trek.
Below I share with you all the delicious gluten free food options available along the Everest Base Camp trekking route. You'll learn about what foods you can and cannot eat, and how to incorporate your gluten free diet into the Nepali food culture.
What Foods You Must Eat on an Everest Base Camp Trek
Food is a very important consideration when visiting a new country. It's even more important when you're trekking for multiple days and walking over 100km. The food eaten by you along your Everest Base Camp trek is very important as you'll also be dealing with high altitude.
"SIMPLE CARBOHYDRATES SHOULD MAKE UP THE BULK OF YOUR DIET ON YOUR TREKKING JOURNEY."
For these reasons, it is recommended that your diet should be made up of easy to digest carbohydrates. This allows your body to easily break down the carbs for energy and fuel at high altitude.
When trekking to Everest Base Camp, it is important that your diet is high in starchy foods such as rice, noodles, bread, pasta, pizza and potatoes. For gluten free options, eat plenty of rice and potatoes which are readily available at all teahouses along the way to Base Camp.
It is hard to get food high in protein along the trek, so the best option for getting protein into your diet is to eat eggs and lentils.
Vegetables are plentiful, especially when you order a vegetarian thali, and potatoes are a staple diet in the Himalayan culture.
A fruit platter is normally served by your guide after dinner as a special treat.
Gluten Free Food Options on an Everest Base Camp Trek
Luckily for us gluten free people, the Nepali diet, especially on the mountains, incorporates a lot of rice, daal and potatoes. With just these three ingredients, it's possible to have a variety of yummy dishes that are gluten free.
Apart from these, there are other gluten free options on the menu for all three meals when trekking to Everest Base Camp. Here are a few examples of gluten free dishes you can expect to find on most of the menus along the way.
Gluten Free Breakfast Choices
The most popular breakfast option at the teahouses is a set breakfast. This includes toast with butter and jam, eggs and potatoes. You can opt for a set breakfast, eat the eggs and potatoes, and omit the bread.
Alternatively, you can choose one of the breakfast options below.
Eggs cooked to your liking
Porridge
Corn flakes with milk
Muesli made with rolled oats, fruit and nuts, desiccated coconut, and milk
Fruit
"A NEPALI THALI IS A POPULAR AND DELICIOUS GLUTEN FREE OPTION."
Gluten Free Lunch Options
The most popular dish on all menus in the Himalayan mountains is a Nepali thali. It is a staple diet of the Nepali people all over the country. A Nepali thali also happens to be the best option for all trekkers heading to Everest Base Camp.
You can choose a meat thali or a vegetarian one. I would recommend choosing a vegetarian thali over a meat one. It is dangerous eating meat on the mountains and is best avoided where possible.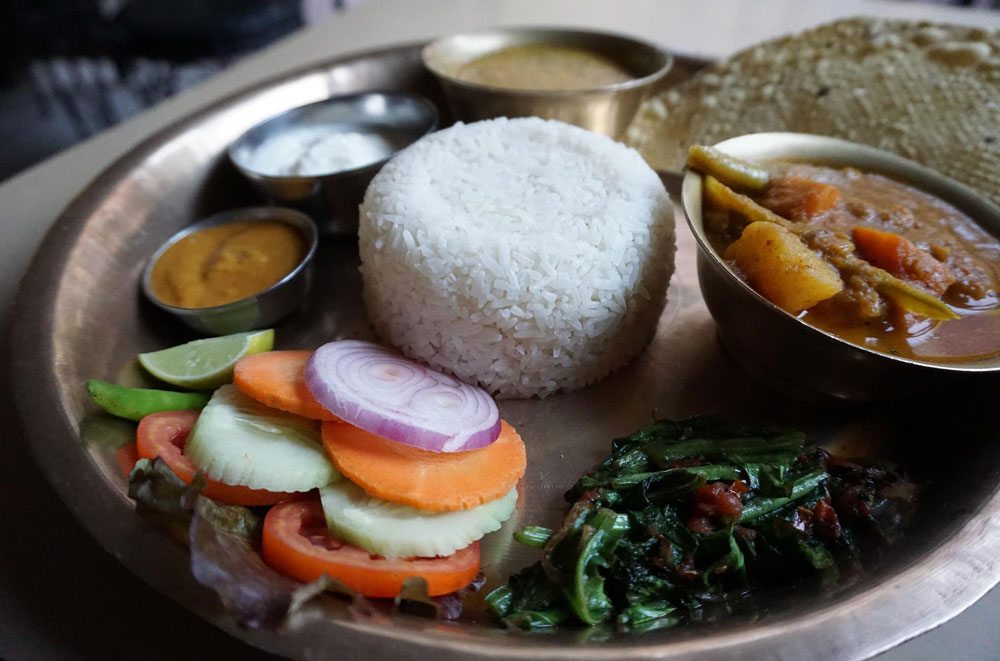 A Nepali thali is a comprehensive meal made up of rice, daal, vegetable fry, pappadum and occasionally some pickle. For a meat thali, you will get a meat dish (chicken, pork or buff) usually with some potatoes.
When you order a Nepali thali, you can eat as much rice and daal as you want. Just ask your guide to get more from the kitchen.
Gluten Free Dinner Choices
Some people can eat a Nepali thali for lunch and dinner daily. For me, I got sick of eating rice and daal all the time. When you've eaten enough Nepali thalis to last you a lifetime, you can choose other gluten free dishes available.
Here are some options.
Fried rice (vegetarian, egg or chicken)
Fried potatoes with cheese and veggies
Roast or grilled chicken/steak with chips and veggies (not recommended above Namche Bazar)
Tips for Staying Healthy on an Everest Base Camp Trek
While trekking to Everest Base Camp, I came across a lot of people who were sick due to food poisoning or altitude sickness. While I didn't suffer from either, all my family members suffered from food poisoning at different stages along the trek.
I learned a lot from the mistakes we made. So, I'd like to share my lessons with you on how to stay healthy while trekking to Everest Base Camp.
"FOOD POISONING IS A COMMON OCCURANCE ON AN EVEREST BASE CAMP TREK."
Always eat freshly cooked food
Eat a diet rich in simple carbohydrates, vegetables and fruit
Stay away from eating meat, especially above Nachme Bazaar, as the meat available is not fresh
Stay away from baked goods, especially at the French bakeries along the way
Carry some snacks (energy bars, chocolates, trail mix) with you from home
The most simplest foods are the best options
Always use hand sanitiser before you eat anything
Drink plenty of fluids, especially tea which is easily available with all three meals
Drink sterilised water, either bottled or boiled, or sterilise the water yourself
Carry some Imodium Multi Symptom tablets with you, in case you suffer from food poisoning
I hope this article has helped you discover how to eat gluten free while trekking to Everest Base Camp. Thanks to the Nepali culture, it's actually quite easy to find plenty of gluten free foods at all the teahouses.
As always, I love to hear from my readers. Are there any other gluten free foods you can think of that are available along an Everest Base Camp trek?
Please leave your comments below.