Everybody agrees. Everest Base Camp is a difficult and challenging trek. It involves trekking for 11 days, over 100 kilometres, reaching an elevation of 5,364 metres. Put together the long distance, huge elevation gains, high altitude and adverse weather conditions and you can see why the Everest Base Camp trek difficulty level is considered HIGH.
Yet for all, thousands of hikers and trekkers from all over the world make this pilgrimage every year to feast their eyes on Mount Everest and all the neighbouring mountain peaks of the Himalayan ranges. As difficult and challenging as the trek is, the benefits are far greater and so people take on this trek with excitement, passion and vigour.
I believe that as difficult and challenging as it is, any adult can trek to Everest Base Camp with the right mindset and training. The proof – my five year old son climbed Everest Base Camp in April 2022. In fact, his dream is to climb Mount Everest one day. If he could walk unassisted to Everest Base Camp, any adult can.
In this article, I'll give you the guidelines you'll need to make it easier for you to overcome the difficulties you'll face while trekking to Everest Base Camp. No matter how difficult things get, if you're prepared as best as you can be, you're putting the odds in your favour for an easier and more successful journey.
"A COMBINATION OF DISTANCE, ELEVATION, ALTITUDE AND ADVERSE WEATHER CONDITIONS MAKES THE EVEREST BASE CAMP TREK DIFICULTY LEVEL HIGH."
1. Distance and Elevation
The Everest Base Camp trek involves walking for over 100 kilometres across 11 days or more. It is gruelling work when you have to walk 8 to 10 kilometres every single day for what seems like eternity.
Then you have to deal with the elevation gain which on some days can be as high as 1,200 metres. You'll learn about trekking the 'Nepali flat' way too. This is not actually a flat trail but a series of ups and downs that you have to meander your way over.
A combination of long distance and high elevation gain makes this trek oh so challenging. However, there are many ways to make the distance and elevation rise easier for yourself. Here are a few tips.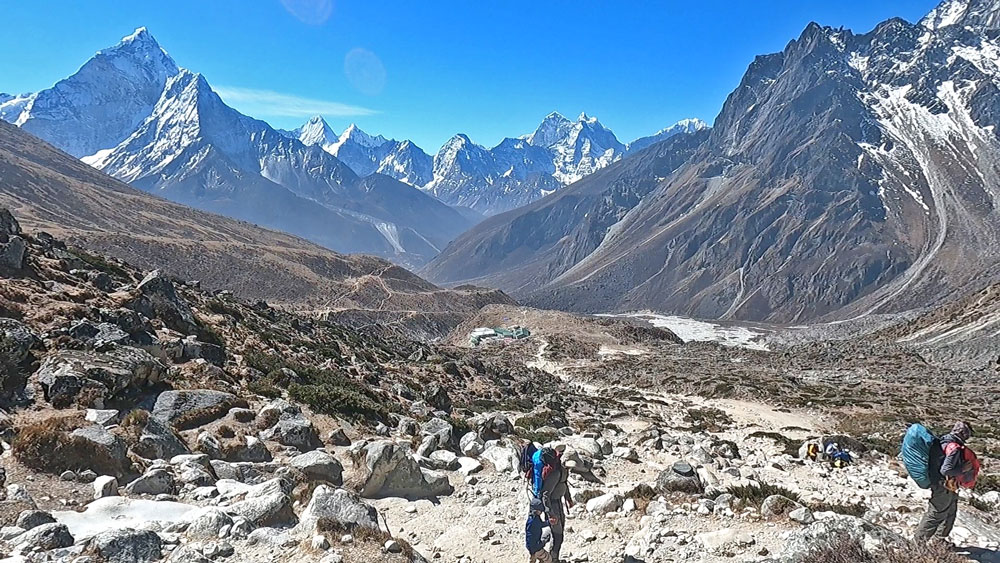 a.) Training
This is the number one key to making or breaking your trek to Everest Base Camp. I don't believe anyone can complete the trek without some level of training beforehand. It is imperative that you start your training at least a couple of months before your trip to ensure you're in the best physical shape for the trek.
In my article How to Get the Best Training for Everest Base Camp, I break down the best training plans and programs that you can undertake to get ready for the trek. Follow the advice in the article to set yourself up for ultimate success.
"TRAINING IS #1 MOST IMPORTANT DETERMINANT FOR AN EASIER EVEREST BASE CAMP TREK."
b.) Choose the Right Itinerary
The classic Everest Base Camp trek is 11 days. However, there are many variations to the Everest Base Camp trek which range from the shortest trek of 7 days to longer extended treks of up to 16 days.
Trekking Tours
The idea is to find a trekking itinerary that matches your fitness level. If some days sound too long for you, see if you can work with the tour provider of choice to break up the day into two. Also, opt for a private tour so you don't have to cater to the whims and fancies of other trekkers in the group.
Take a look at my article Unbiased Complete Reviews of the Best Everest Base Camp Tours to find the best tour operators for the Everest Base Camp trek.
Helicopter Tours
Lastly, if trekking for 11 days or more sounds like too many days on the trail, you can trek one way to Everest Base Camp and take a return helicopter ride. This is the shortest and easiest way to trek to Everest Base Camp.
Check out my article Most Popular Everest Base Camp Helicopter Tours You Will Love.
2. Altitude Sickness
Not only do you have to deal with the long distance and high elevation gains of trekking to Everest Base Camp, you also have to deal with altitude sickness. This can come in all different forms from mild symptoms to serious complications.
What is altitude sickness? Altitude sickness is your body's reaction to high altitude. For most people, being 10,000 to 20,000 feet above sea level is not what the body is used to on a day to day basis. At 10,000 feet, for example (just above Lukla), oxygen levels are already at 70% of normal levels. Your body is going to need to adjust to having less oxygen at these higher elevations.
While serious cases of altitude sickness are a rarity, some people suffer from mild cases of altitude sickness (dizziness, headaches, nausea).
As long as you travel slowly, have a couple of acclimatisation days in between the trek to Base Camp and follow all the right protocols, you shouldn't have to worry about altitude sickness on the trek.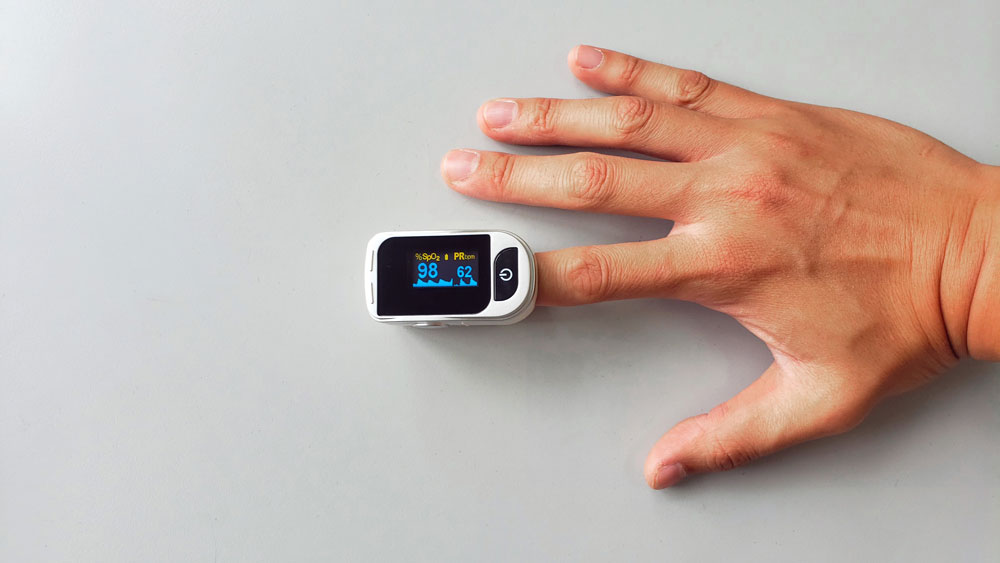 Here are a few tips to make sure you don't suffer from altitude sickness during the trek.
Travel slowly
Have two acclimatisation days on the trek to Everest Base Camp
Take altitude sickness tablets (from Namche Bazaar to Everest Base Camp and up to your return to Namche Bazaar)
Check your pulse and oxygen levels (with an oximeter)
Stay hydrated by drinking plenty of water
Eat simple carbohydrate meals
Don't drink alcohol, smoke or take sleeping tablets
"ASCENDING SLOWLY IS the single MOST IMPORTANT WAY TO AVOID ALTITUDE SICKNESS."
3. Food Poisoning
I don't know why but I met a lot of people on the trek to Everest Base Camp who had suffered from food poisoning. My own family had cases of food poisoning too.
It could be due to two reasons.
Firstly, the food that we eat along the Everest Base Camp trek has to be brought in from a long way away. There is very little to no refrigeration on the mountain. So food can't be stored for long. Also, sanitation is not the best in the villages along the trek.
Secondly, at high altitudes, the body struggles to digest food. Especially food that is hard to digest such as meat, baked goods and the like. So what might seem like food poisoning might actually be the body's way of flushing out the food from inside the body.
Nevertheless, food poisoning is a serious issue as the symptoms can be quite debilitating making it very hard for you to continue trekking. Vomiting and diarrhoea can cause severe energy depletion. Eating anything at this stage is almost impossible.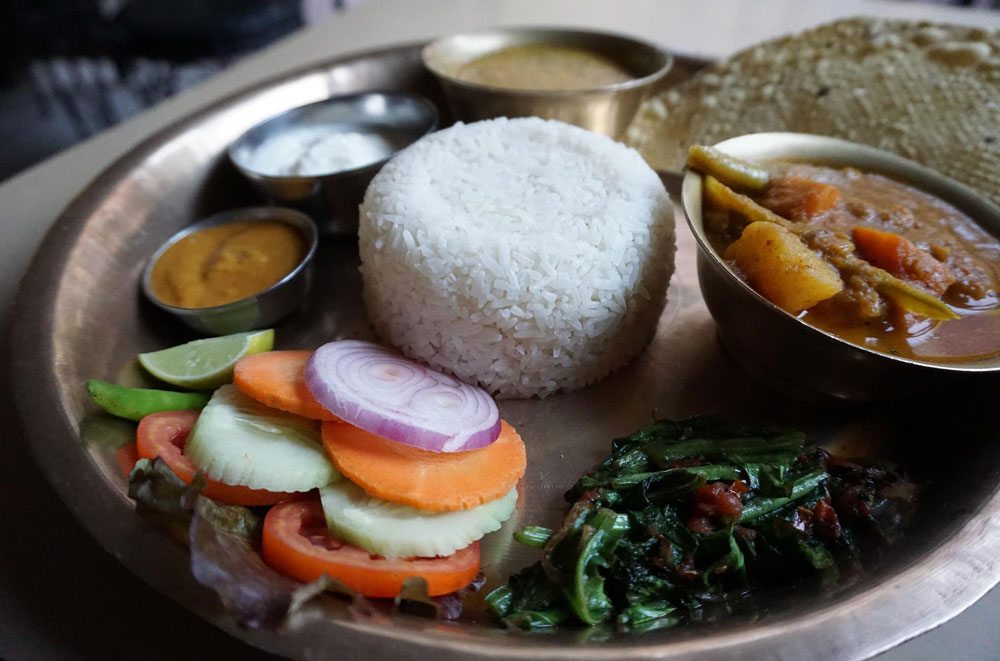 To ensure that you don't get food poisoning along the trek to Everest Base Camp, follow these simple guidelines and stay safe.
Eat freshly cooked food at all times
Stay away from eating meat (especially above Namche Bazaar)
Eat simple, easy to digest foods
Use hand sanitiser before eating anything
Drink lots of water and tea
Carry some Imodium tablets with you in case you do get food poisoning.
"EAT FRESH, SIMPLE, EASY TO DIGEST FOOD ALONG THE EVEREST BASE CAMP TREK."
4. Adverse Weather Conditions
The weather in the mountains is unpredictable any time of the year you travel. It doesn't matter whether you go in April or December, there's always a chance of rain, snow, wind and anything else the weather can throw at you.
As you trek from Lukla to Everest Base Camp, the weather gradually gets more extreme. While the weather can be warm and balmy below Namche Bazaar, as soon as you start trekking above the treeline, the weather changes for the worse. Strong winds blow from every direction, the temperature starts to plummet and you don't want to be trekking late in the day.
While it's difficult enough trekking to Everest Base Camp in good weather conditions, adverse weather conditions can make it even more challenging.
Here are some ways to trek during the best weather conditions or to protect yourself should you encounter adverse weather conditions on your Everest Base Camp trek.
Trek during peak seasons – Spring (April to May) and Autumn (October to November)
Start early in the morning so you're indoors by early to late afternoon
Carry lots of warm clothes – layering up is the best method
Carry accessories such as gloves/mittens, beanies and neck warmers
Travel with a reputable tour provider so you have a knowledgeable and experienced guide with you
Positive Mindset
Last, but certainly not the least, is having a positive mindset.
You can physically prepare yourself for the Everest Base Camp trek by training and having the right gear and equipment. However, there might be adversities along the way you did not expect.
Having the right mindset is very important to overcoming the challenges and adversities you will face along the trek.
Be open minded. Be positive. Be flexible. Be prepared for anything.
"HAVING A POSITIVE MINDSET WILL ENSURE YOU HAVE AN ENJOYABLE TREK."
I love to hear from my readers.
What challenges do you struggle with the most? What do you find the most difficult about trekking to Everest Base Camp?
Please leave your comments below.