Whether you choose to carry your own gear or have a porter carry it for you up to Everest Base Camp, you'll want the right pack for the job. Which is why I've created a list of best daypacks and backpacking backpacks so you can select the best backpack for your Everest Base Camp trek.
Most people choose to have a porter carry their backpack and instead carry a daypack with a few items they'll need along the trail.
For those few who choose to carry their own backpack, they'll need a backpacking backpack that's big enough to carry everything for their trip, but comfortable enough to haul up to Everest Base Camp.
Below we breakdown the best backpacks for an Everest Base Camp trek, from simple daypacks to hardcore backpacking backpacks.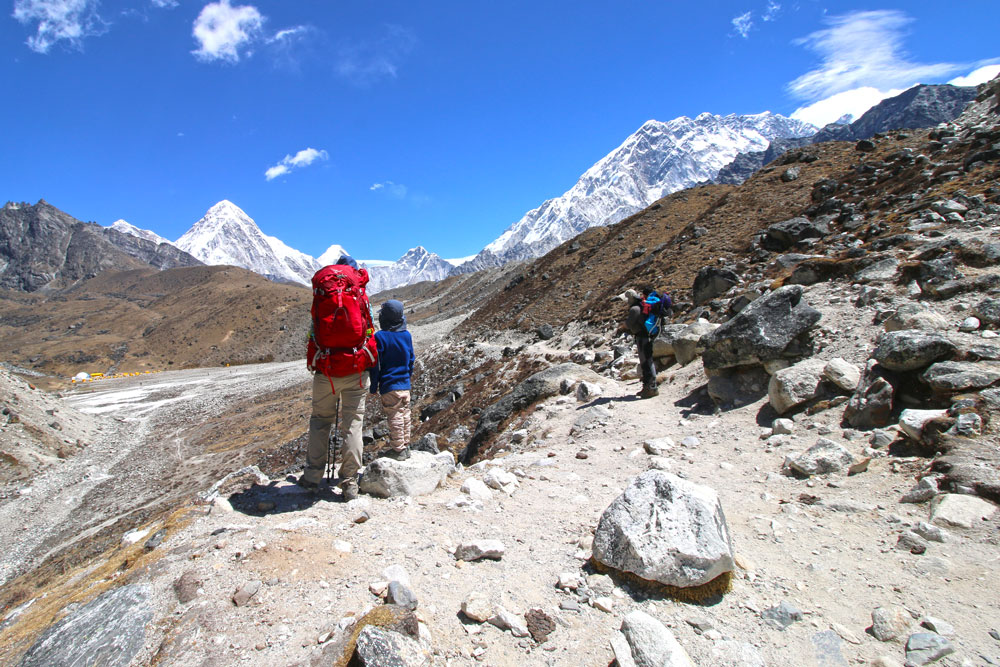 Best Daypacks for an Everest Base Camp Trek
Since your porter will be carrying most of your gear, you'll only need some basic items that you'll want to use during the day as you walk along the trail. Most people carry water and some snacks, a layering piece and rain shell, and a few other accessories like a phone and camera. And since you'll be on the trail for most of the day, the more comfort, capacity, and features come into play.
Below we break down the best daypacks, from simple and inexpensive models to more comfortable and feature-packed options for long trekking days to Everest Base Camp.
Best Overall Daypack
1. Osprey Talon 22
Weight: 1 lb. 14.6 oz.
Capacities: 11, 22, 26, 33, 36, 44L
Hipbelt: Cushioned
What I like: A comfortable, well-built, and versatile daypack.
What I don't: For heavy loads, the Osprey Stratos below offers more padding and support.
If you're looking for one daypack that can do it all, Osprey's Talon is your best bet. At 22 liters (and made in larger versions up to 44 liters for those who need more capacity), it hits an ideal balance of comfort and features.
Notably, the Talon has a real hipbelt with light cushioning, which is more comfortable than the simple webbing you get with more streamlined packs, along with a thoughtfully designed mesh backpanel. The pack also has functional organization, a nice stretchiness to it, ample attachment points including for trekking poles, a helmet, and a bike light, and is made in two sizes to dial in fit.
Most Comfortable Daypack for Heavy Loads
2. Osprey Stratos 36
Weight: 3 lbs. 4.5 oz.
Capacities: 24, 34, 36, 44L
Hipbelt: Cushioned
What I like: Extremely comfortable, loaded with features, and can pull double duty for light overnights.
What I don't: Heavy for the capacity and no longer offered in multiple sizes.
If you prioritize comfort or plan on hauling a heavy load, the Osprey Stratos 36 is one of the most feature-rich daypacks available.
Its full metal frame and substantial hipbelt put the weight comfortably on your hips, and a large mesh panel ventilates extremely well and conforms nicely to your back. In addition, organization is excellent. There's two hipbelt pockets, zippered side panel access to the main compartment, a sleeping bag compartment and pad straps for embarking on minimalist overnights. Add a built-in rain cover, and the Stratos checks off everything you'll need in a daypack – and more.
Best Hydration Pack for Hiking
3. Osprey Skarab 30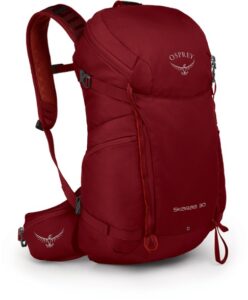 Weight: 1 lb. 8.6 oz.
Capacities: 18, 22, 30L
Hipbelt: Cushioned
What I like: Great mix of storage, convenience, and comfort with an included hydration system.
What I don't: Small hipbelt pockets, only sold in one size, and many hikers already own a reservoir.
Most modern daypacks come with dedicated storage for a water reservoir, but Osprey's Skarab 30 (and women's Skimmer 28) provides a functional all-in-one option for those who want to purchase their pack and bladder together.
The Skarab is impressive for its comfort and convenience, including a spacious main compartment with a large bucket-style opening, nicely cushioned yet low-profile suspension system, and convenient organizational layout.
Best Pack for Fast-and-Light Mountain Missions
4. Black Diamond Distance 15
Weight: 13.9 oz.
Capacities: 4, 8, 15L
Hipbelt: None
What I like: Light, streamlined, and allows convenient access to the essentials.
What I don't: No hipbelt and specialized feature set.
For those who like traveling fast and light, the Black Diamond Distance is for you.
The hybrid pack/vest design checks in at a scant 394 grams but easily accommodates a day's worth of supplies. The storage layout is another highlight: The four zippered chest pockets, trekking pole sleeves, ice axe holders, side compression straps, and dual front stretch pockets allow you to conveniently access the essentials without removing the pack. Along with the body-hugging shape, the Distance makes it easy to move quickly and efficiently as you trek to Everest Base Camp.
Best Daypack for On-the-Go Storage
5. Arc'teryx Aerios 30
Weight: 2 lbs.
Capacities: 15, 30, 45L
Hipbelt: Cushioned
What I like: Excellent on-the-go storage with a supportive and body-hugging fit.
What I don't: Expensive and not ideal for casual use.
Arc'teryx is known for making high-quality gear for ambitious adventures, and much of that expertise has trickled down to their hiking-focused Aerios pack. This is a fastpacking-inspired design, which merges the capacity and support of a backpack with the on-the-go storage of a running vest.
On the front, you get two stretchy mesh pockets (great for storing soft flasks) in addition to zippered pockets on both the shoulder straps and hipbelt. The rest of the pack offers equally convenient organization, including side dump pockets and a handy accessory stash. The suspension is excellent, pairing a vest-like fit at the chest with a rigid foam backpanel and supportive hipbelt. It's a favourite for hikers that prioritise speed and distance.
Best Budget / Lightweight Daypack
6. REI Co-op Flash 22
Weight: 14 oz.
Capacities: 18, 22L
Hipbelt: Webbing
What I like: Lightweight, well made, and cheap.
What I don't: Underbuilt for shuttling a full load.
REI Co-op's Flash line of daypacks has been a mainstay among hikers and those on a budget for years. And with a recent update, the latest Flash 22 is more competitive than ever. Simplicity wins out here. The Flash 22 is frameless by design, meaning it lacks the rigidity of other daypacks but manages to keep weight extremely low at just 14 ounces (and even less if you take out the back pad or sternum strap). You don't get a cushy hipbelt or shoulder straps, but the padded mesh along the back and shoulders does a good job at keeping you comfortable when carrying lighter loads. Perhaps most importantly, the Flash costs much less than any other pack on this list, is well built overall, and has enough capacity for all-day outings on the trail (provided you pack relatively light).
Best Backpacking Backpacks for an Everest Base Camp Trek
Planning on carrying all your gear yourself? For those long days on the trail, you need a backpack that excels in carrying comfort, organisation, and weight.
Trends in backpacks these days err towards minimalism and thoughtful, ergonomic design.
Below is our list of best backpacking backpacks for an Everest Base Camp trek, from ultralight bags to comfort-oriented options.
Best Overall Backpacking Backpack
1. Osprey Atmos AG 65
Weight: 4 lbs. 9.8 oz.
Fabric: Nylon (210D x 500D)
Capacities: 50, 65L
What I like: An incredible all-rounder with especially great ventilation.
What I don't: Pricey and fairly heavy at over 4.5 pounds.
The Atmos AG (and women's Aura AG) is the top backpacking backpack for an Everest Base Camp trek, deftly balancing comfort, organisation, and durability. The best feature is the "Anti-Gravity" suspended mesh backpanel, which replaces the protruding foam found on more traditional designs to maximise both ventilation and comfort. Moreover, the pocket design is thoughtfully laid out with plenty of options to divvy up gear, the new Fit-on-the-Fly harness and hipbelt offer an easily customizable fit, and the premium materials hold up well to rough treatment. Overall, the Atmos is an extremely well-rounded backpack that works well for an Everest Base Camp trek.
Best Ultralight Backpacking Backpack
2. Hyperlite Mountain Gear 3400 Southwest
Weight: 2 lbs. 0.6 oz.
Fabric: Dyneema (50D & 150D)
Capacities: 40, 55, 70L
What I like: Impressively light but strong and can carry a full load.
What I don't: Expensive and minimal organization.
What sets the Southwest apart is its construction, which offers incredible strength and water resistance at a very low weight. You won't find a more streamlined yet hardwearing design, and the thicker body fabric offers significantly more durability. Tack on a firm foam backpanel and aluminum stays, and the Southwest handles heavy loads with relative ease. For a backpack that's just a smidge over 900 grams, it's no wonder it's one of the most popular ultralight packs on the trail. And Hyperlite offers a range of other options, with the primary difference being the external pocket fabric. The Windrider, for example, has mesh pockets and is a great choice for those who want to dry gear out on the go.
Most Comfortable Pack for Heavy Loads
3. Gregory Baltoro 75
Weight: 4 lbs. 15.7 oz.
Fabric: Nylon (210D & 420D)
Capacities: 65, 75L
What I like: Heavy hauling comfort with a great feature set.
What I don't: Pretty heavy and overkill for minimalists.
Gregory has earned a reputation for comfort over the years, and their flagship men's Baltoro and women's Deva packs carry on the tradition. These bags are intended to haul heavy loads with strong suspensions, firm but supportive padding, and excellent organisation. With a fully mesh backpanel and the hip-hugging suspension and pivoting shoulder straps keep the pack stable when hiking over uneven terrain. There's also a generous storage layout for shuttling multi-day loads, including nine exterior pockets, U-shaped front access to the main compartment, and massive hipbelt pockets that easily swallow a large smartphone.
Best Budget Backpacking Backpack
4. REI Co-op Trailbreak 60
Weight: 3 lbs. 13 oz.
Fabric: Ripstop nylon
Capacity: 60L
What I like: Wallet-friendly price and a nice feature set.
What I don't: Limited carrying comfort and only offered in one torso size.
For value seekers, REI's in-house collection is a great option. The Co-op's branded gear doesn't make many headlines in terms of performance or weight-savings, but the price is right and quality and features are serviceable for most casual users. Their entry-level Trailbreak pack nails the basics: you get simple foam padding along the backpanel and hipbelt, an internal steel frame for structure and support, and a 35-pound max load that can work well for an Everest Base Camp trek.
There are so many options for daypacks and backpacking backpacks these days which can make it hard to choose the right one. Hopefully, we've broken down the options into categories to make it easier for you to make an informed choice based on your needs.
So, whether you're after a light daypack or a larger backpacking backpack, you can choose the best backpack for your next Everest Base Camp trek.
Do you have a daypack or backpack on this list? Which is your favourite one?
As always, I love to hear from my readers so please leave your comments below.